Event Description
Summer means beer and music!
Fire up the grills, tap the kegs and crank up the tunes for Reno's best summer kick-off party. There's no better way to celebrate summer. Downtown Reno will be rockin' with live entertainment, amazing food and more than 50 breweries from around the world, including the Eldorado's Brew Brothers.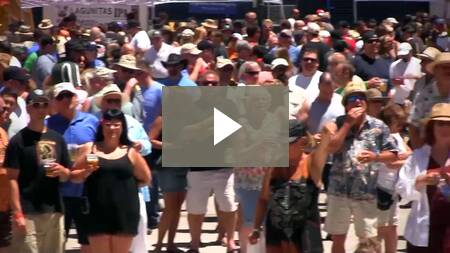 Entertainment Schedule*
The Eldorado Resort Casino is pleased to announce that the Gin Blossoms and Everclear will headline this year's event! The concerts are free to the public.
Friday, June 17
4th Street Stage
3:30 pm – Matt Rainey & the Dippin' Sauce

5:30 pm – Shane Dwight

7:30 pm – Gin Blossoms
3rd Street Stage
4 pm – Buddy Emmer Blues Band

6 pm – Jason King Band
Saturday, June 18
4th Street Stage
12:30 pm – Jason King Band

2:30 pm – Hannah Jane Kile

4:30 pm – Max Cabello Jr.

6:30 pm – Everclear
3rd Street Stage
12 pm – Buddy Emmer Blues Band

2 pm – Blues Monsters

4 pm – Ranell Carpenter Band

6 pm – AC Myles
*Schedule is subject to change.
The Gin Blossoms
Taking their name from a caption on a W.C. Fields photo, Gin Blossoms signed a record deal with A&M and recorded their first EP "Up and Crumbling" in 1991. But, it was not until their breakout record "New Miserable Experience" in 1992 that their rise to fame began. Once dubbed the "Best Unsigned Band in America," "New Miserable Experience" kept the band on the charts for almost three years with singles "Hey Jealousy," "Allison Road," "Until I Fall Away," Mrs. Rita" and "Found Out About You." The album took the airwaves by siege and held MTV hostage with multi crossover hits in four different radio formats. It was this record that rocketed the band into the mainstream, going on to sell over four million copies, making them a '90s radio mainstay.
Everclear
Bombastic, hard-driving, generation-spanning rock n' roll with instantly memorable, sharp hooks propel Everclear's new studio album "Black is the New Black." Muscular but melodic, this is the sound of a band driven and united by singular, intense purpose. All the while, Everclear's music explores lead singer Art Alexakis's life, cracked opened and explored through the art of song. It's there in "Heroin Girl," from the band's platinum commercial breakthrough, "Sparkled and Fade" and the double-platinum "So Much for the Afterglow" which produced enduring radio staples like "I Will Buy You a New Life" and "Father of Mine," which is as ubiquitous on the radio now as then.
Location
 Eldorado Resort Casino
345 N. Virginia Street Reno, NV 89501